The International Presentation of Performers held its annual acting, singing, modeling and dancing convention at the Hyatt Regency Century Plaza from January 9 through January 12. To kick things off this year, iPOP! launched a concert series for all iPOP! attendees, plus Make-A-Wish Foundation and Starlight Children's Foundation families.
Kimberly Locke and Tiffany Giardina headlined the event with additional appearances by Anna Maria Perez de Tagle (Fame, Camp Rock, Hannah Montana), Benton Paul (currently touring with David Archuleta), Brandon Mychal Smith (Disney's Sonny With a Chance), Ariana Grande (Nickelodeon's Victorious!), Savvy & Mandy (Radio Disney Artists), Allen Evangelista (ABC Family's The Secret Life of the American Teenager), and Gregg Sulkin (Disney's Wizards of Waverly Place).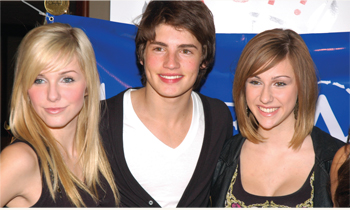 Savvy Celebrities: Savvy & Mandy (Radio Disney Artists) strike a pose with Gregg Sulkin of Disney's Wizards of Waverly Place.
iPOP! was thrilled to offer this event to the attendees and families of the Make-A-Wish Foundation and Starlight, and especially honored that these performers were eager and excited to give their time and talent to such a unique event. "iPOP! participants look to these performers as role models and they are exactly who they aspire to be, so it is fitting and so special to iPOP! that Kimberly, Tiffany, and all of the celebrities took part of this special evening," said iPOP! President Joseph Beauchamp.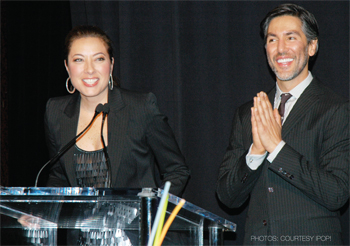 Best Wishes: iPOP! President Joseph Beauchamp (R) and Vice-President Tiffany Rochel (L) are thrilled with the Make-A-Wish Foundation and getting the talented young men and women at iPOP! involved in the charity early in their careers.
For 25 years, Starlight Children's Foundation has been dedicated to improving the quality of life for children with serious medical conditions by providing entertainment, education and family activities that help them cope with the pain, fear and isolation of prolonged illness. Through a network of chapters and offices, Starlight provides ongoing support to children, parents and siblings in all U.S. states and Canadian provinces with an array of outpatient, hospital-based and Web offerings. Programs are also delivered internationally through affiliates in Australia, Japan and the United Kingdom. To learn more visit www.starlight.org.
iPOP! was pleased to host Make-A-Wish Foundation of Greater Los Angeles as its primary recipient of matched fund donations during iPOP!'s biannual talent convention. Each year iPOP! selects a charity that is given a booth during the four-day talent competition in which over 1,200 children, teenagers and young adults audition in front of Hollywood's top agents, managers, producers and casting directors. The actors, models, singers and dancers that are all competing for top honors are asked along with their parents to stop by the charity booth and make monetary donations. This year iPOP! opened its doors to Make-A-Wish Foundation of Greater Los Angeles and matched the parents and iPOP! contestant's donations dollar for dollar.
In addition to the financial donation, iPOP! granted wishes to three Make-A-Wish families who got to participate in the iPOP! showcase. Anthony Greene, a recipient of his wish at iPOP! Las Vegas in 2009, came back to perform triumphantly as a signed artist with major producers working on his upcoming album.
"We're happy that Make-A-Wish Foundation Greater Los Angeles Chapter could be with us this year," said Joseph Beauchamp. "iPOP! is all about making wishes come true for hundreds of children and teenagers who are given the opportunity to meet the entertainment industry's top representatives. We thought Make-A-Wish would fit right in and we were right. iPOP! can't wait to raise money for Make-A-Wish at our next iPOP! in Las Vegas 2010."
"iPOP! is a wonderful event! Thank you so much for selecting the Make-A-Wish Foundation of Greater Los Angeles as the beneficiary," said the Director of Special Events at Make-A-Wish of Great Los Angeles Tessa Bowser. "We look forward to working with iPOP! again in the future."
The Make-A-Wish Foundation of America is the nation's largest wish-granting organization. It has fulfilled the wishes of more than 161,000 children in the United States and its territories since 1980. Based in Phoenix, the Make-A-Wish Foundation serves every community in the United States, Guam and Puerto Rico through its 67 chapters. While medical technology and treatments have allowed the children they serve to lead longer lives, the chapter continues to strive towards the ultimate mission of fulfilling a wish for every child diagnosed with a life-threatening medical condition in Los Angeles County.
iPOP! participants have signed modeling contracts with Wilhelmina, Ford, Elite, MMG or LA Models, have appeared in fashion layouts for such industry giants as Pageantry magazine, Glamour magazine, JC Penny, Mervins, Target, Teen magazine and Seventeen magazine. They have starred in commercials for Motorola, Domino's Pizza, Mrs. Butterworth, AT&T, Kmart, Starbucks, Cingular, L'Oreal, McDonalds, Band-Aid and Microsoft Windows. In the last four years, iPOP! attendees have booked appearances on Desperate Housewives, Ugly Betty, Scrubs, Entourage, Hannah Montana, Zoey 101, Criminal Minds, Bones, Law & Order and Grey's Anatomy. They have appeared in films such as The Changeling with Angelina Jolie, Bedtime Stories with Adam Sandler, and Angels & Demons with Tom Hanks.
iPOP! is the successful merger of the music and acting industry with fashion and modeling, creating one of the largest and most well respected events for aspiring actors, singers, dancers and models to attend. iPOP! has introduced close to 8,000 talented children, teenagers and young adults to the most respected agents, managers, producers and casting agents in the business today.