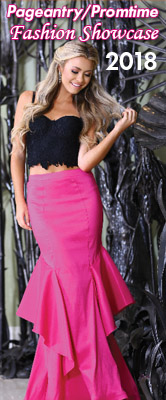 30 years of Pageantry continued...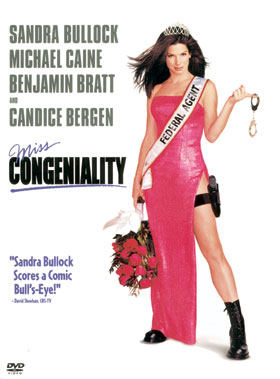 Born For Movies:

In 2000, producers of the hit comedy Miss Congeniality, starring Sandra Bullock, called upon Pageantry magazine's reputation as the industry leader and featured the magazine in the film. Sandra Bullock was also featured in a Pageantry interview..
A Starring Role In Hollywood
Through a partnership with contributing writers and industry specialists, whose articles form the core of this magazine's peerless editorial package, Pageantry lays claim to not only the title of "Bible of the Industry," but also the moniker of "most valued and passed-around magazine ever."
Even Hollywood has recognized this singular stature. Entertainment Tonight featured the magazine as it celebrated its 20th anniversary in 1999, and in 2000, when producers of the mega-hit Miss Congeniality needed to find a publication to help turn Sandra Bullock's undercover fictional FBI agent Gracie Hart into Miss United States New Jersey Gracie Lou Freebush, they cast specially printed copies of Pageantry magazine.
The World's Largest Fashion Showcase
One of Pageantry and PromTime's most iconic and notable productions is the Pageantry & PromTime Fashion Showcase, the largest on-site social occasion fashion shoot in the world. Each year, Pageantry showcases the newest styles and designs of prom and social occasion wear in exquisite and exclusive settings. Hundreds of models travel to our offices in Longwood, Florida, to audition to be a part of this exclusive fashion shoot, as many of our past models have gone on to successful careers modeling throughout the world and appearing on a variety of television shows.
Past locations have included Universal Studios Florida, Walt Disney World, Cypress Gardens, The Ringling Mansion and Museum, the Sarasota County Convention and Visitors Bureau, Daytona Beach, the city of Lakeland, Florida, the city of Orlando, Florida, Anna Maria Island and all three of the Florida Westgate Resorts properties. Pageantry and PromTime have also worked with the Biltmore Mansion in Asheville, North Carolina, the Lee Greenwood Theater in Sevierville, Tennessee, and the Renaissance Vinoy Resort in Saint Petersburg, Florida.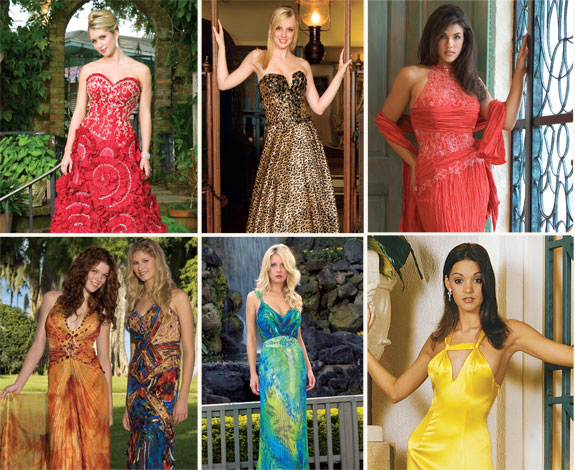 Fashion Icons:

The Pageantry and PromTime Fashion Showcase is the world's largest on-site fashion shoot for social occasion formal wear. Year after year, the Fashion Showcase continues to grow and explode on to the pages of Pageantry and PromTime as more and more models audition to appear in the 44-page spreads. Many of our models have gone on to international modeling careers and even television roles.
Pageantry's Success Follows the Family Plan
Founded by Carl David Dunn, Pageantry magazine has, for all 30 years of its existence, been a family business. After creating the brand and watching it prosper through the first decade, Carl David handed the reins to his brother Charles O. Dunn, who, along with his wife Betty W. Dunn, led Pageantry into the 1990s. Charles and Betty assumed the roles of Publisher and President, respectively.
Charles' vision throughout the 1990s, based on his belief that the industry's supporting players—particularly fashion manufacturers and retailers—deserved a high-end promotional publishing partner, led to the explosive growth of both advertising and editorial pages, and the publication went from 24 pages in its infancy to an average of 124 in full color by 1999.
As Pageantry became the prime source of information about pageant, prom and social occasion fashions, it also became a major force within the fashion industry. A mid-1990s marketing effort led to the now highly anticipated annual Pageantry and PromTime Fashion Showcase each spring, and it wasn't long before Charles Dunn had landed national newsstand distribution for Pageantry, which, along with direct mail subscriptions, the American School Directory program, and cross-promotional distributing formed the basis of Pageantry's worldwide circulation.
With the new millennium, the Pageantry leadership changed, but the family name once again remained. Carl Dunn, Charles' son, assumed the role as the company's Chief Executive Officer. Like his namesake, Carl David, it was Carl Dunn's intentions that the resources of Pageantry—its stable of contributing writers and photographers, its strong partnerships with many industry-serving mainstays, the country's leading social occasion fashion providers, and all of the companies that create, organize and serve the multimillion dollar competition industry—remain unparalleled.
Carl came to Pageantry with great plans for this industry-leading publication, including expansion of the publication's target market through in-print and online initiatives, adding value to partnerships through new cross-promotional ventures and encouraging continued reader involvement through such editorial offerings as the Web Q&A, Pageant Patter, Personalities and Watching the Winners. And while this magazine has already accomplished so much in the past nine years, let alone 30, it's hardly enough for this ambitious cast.

Celebrating the Celebrities
As Pageantry's premier issue first revealed, historically there always has been a strong link between the entertainment industry and the world of competitions, and in subsequent years, that link has only grown stronger. The inaugural issue's cover story presented the cast of Pageant '80, an Atlantic City musical review produced by Bob Parkinson (a Miss Universe/USA vice president) and Bernie Wayne (composer of "There She Is, Miss America") that starred six former talents from the Miss America and Miss USA systems.

Another of the industry's many headline-making watershed events mentioned in the first edition of Pageantry involved the Miss America Organization's decision to replace its long-time host Bert Parks with what has turned out to be a succession of show business stars—the first of whom was actor Ron Ely in 1980, who at the time had already starred in the Tarzan TV series and was hosting a game show called Face the Music. Other notable hosts were Gary Collins, Regis Philbin and Kathie Lee Gifford, Donny and Marie Osmond and Tony Danza to name a few.

Through the 1980s and into the 1990s, the magazine's role as the voice and protector of the competition industry expanded even as the cries of the women's movement faded. Some headline-making pageant stories in Pageantry's early issues included the 1989 death of Albert A. Marks, Jr., the Miss America executive who elevated pageants on the country's grandest stage in 1954 when he negotiated the event's live ABC telecast, and Burt Parks' return appearance as a Miss America telecast guest for that scholarship competition's 70th anniversary, 10 years after Marks had dismissed Parks in favor of the younger Ely.

But primarily, Pageantry's stock in trade remained squarely focused on show business, with cover features on such entertainment notables as Mary Hart, Bob Goen, Phyllis George, Dick Clark, Ed McMahon, Bob Barker, Nancy Stafford, Gena Nolin, Barbara Eden, Regis Philbin, Kathie Lee Gifford, LeAnn Rimes, Halle Berry, and even the Muppets' Miss Piggy, whose tongue-in-cheek interview contained this worthwhile advice: "The necessity of demonstrating flawless taste requires a constantly updated, well-chosen wardrobe."

w