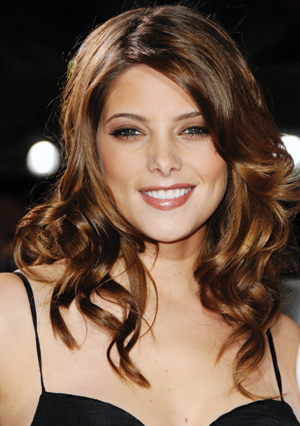 On the Greene: Before Ashley Greene was a professional working actress, she once walked the very same runway the current crop of IMTA models, actors, and musicians walk. Casting Director and IMTA Scout Patrick Baca, CSA first auditioned Ashley Greene when the actress was 16 and a student at an IMTA Member modeling and talent training school in Jacksonville, Florida.
Hollywood's latest rising superstar, Ashley Greene, appears on the theater screen and lights up the dark Grand Ballroom of the Westin Bonaventure Hotel in Los Angeles, California. The frenzied crowd erupts in cheers, whistles and raucous applause in a showing of genuine respect and salutation of admiration for one of the latest success stories to cross the line from wannabe to future superstar. Before she became Alice Cullen in the blockbuster Twilight movie series, she sat in the very same audience years before cheering on other future stars of stage and screen. Stars like Josh Duhamel of the TV Series Las Vegas and smash hit movies like Transformers and Life As We Know It.
It's the beginning film presentation of the International Modeling and Talent Association—Model and Talent Overview showcasing the biggest stars of today and tomorrow. Screams, hoots and hollers barrage the senses as movie and television clips of Ashton Kutchner, Sean Faris, Jessica Biel, Eva Longoria, Moises Arias, Alyson Stoner, Riley Smith, and more roll across the screen, one after another as a testament to the talent factory that has become IMTA.
Highly regarded schools and training centers, agencies and managers worldwide bring their most talented and beautiful men, women, and children to compete in front of industry-leading professionals to scout, network and influence the next generation of stars. They know that IMTA is the gateway to the fashion and entertainment industry. It's the place to see and be seen. Hollywood's hottest have historically given credit to the event as the launching pad of their careers.
"It's one of the most exciting experiences I've ever had in my life," said Jessica Biel. "I met my agent and my manager at IMTA, so they deserve a big, huge, credit for everything I've accomplished because they were the base of getting me out there."
Caressa Cameron was interviewed after her stirring IMTA singing performance and said, "It was an amazing opportunity for me. I've never performed in front of this many people, and for the audience to react so well was so exciting." She went on to capture one of the most coveted crowns in all of Pageantry and became Miss America 2010.
The weeklong event is the ideal amalgam of application and education. Aspiring models, singers, actors, and dancers are afforded the rare opportunity to attend seminars and workshops to help build their knowledge and further perfect their craft. These workshops are offered at the convention by experienced industry professionals and trainers.
Seminars such as "Perfecting Your Performance" by Pageantry's own Breaking into Showbiz writer, Adam Hill; "Parent Survival Seminar" by T.J. Stein of Stein Entertainment Group; "Runway Preparation" by professional runway coach and choreographer Michael Maddox; "Going Pro: How to Transition from Contestant to Auditioning Professional in LA" by Patrick Baca, Harriet Greenspan, Melissa Berger and Ric Coy; "How We Got Started" a seminar for parents and kids by LuAnn Hodges, Joy Martin, and Kathy Schmidt; and "Prepping for Model Callbacks" by Joe Hunter, Karen Lee, Tony Perkins, Roman Young, Paul Nelson, and James Charles.
Disney can confidently count on the fact that the talent pool of the IMTA convention will not only be beautiful and talented, but they will also be knowledgeable and skilled. In fact, the Disney Company has continued to find a reliable stable of stars at the convention including Alyson Stoner, Moises Arias, and Dominic James.
Modeling and talent agencies like Barbizon, John Robert Powers, Main Line Models, and Elite bring their top talent to compete in such events as the Soap Competition, the Sitcom Competition, the Fashion Print/Runway Competition and more. The contestants encourage each other and feed off of their fellow peers' excitement creating confident and energetic performances. If these aspiring models and actors are able to successfully capture the attention of a manager or casting agents, they can receive "callbacks" from industry professionals to meet for an interview and perhaps even sign a contract. The callbacks are performed the day before the final awards ceremony in the Grand Ballroom which is teeming beyond reason with thousands of applicants and hundreds of casting directors, producers, scouts, and agents ready to make someone's dream come true.
Many a small town nobody has looked towards Hollywood's newest fashion goddess or action hero with envy, but the few hopefuls gathered at IMTA truly have the guts and drive to do something about it. IMTA gives young talent the tools and knowledge they need for an invaluable advantage over their aspiring competition. Just as the hot Hollywood elite were shining bright on the LA theater screens in front of an awe inspired crowd who desire the same success, they too may one day find themselves in a future IMTA presentation motivating the next generation of actors, models and musicians.