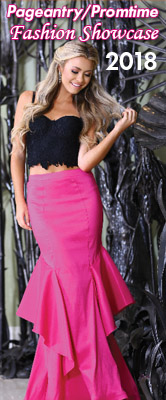 By Eve Matheson

I

receive numerous questions from African-American girls who dream of a career in modeling. The following question is a typical example of what they want to know and their concerns.

Q. I am African-American and want to be a model more than anything else. My parents are unhappy about this because they say it is a dangerous business and a black girl stands very little chance of becoming a model. Is that true? Is it harder for us and what would you suggest? I don't want to give up my dream. I watch Tyra Banks all the time. She is my inspiration and her America's Next Top Model is my favorite show."

A.

Yes, it is harder for an African-American girl to realize this dream. Your parents' concerns are justified. Modeling is a dangerous business if you don't know how to avoid the pitfalls and meet legitimate people who can establish and guide your career. I am pleased that your parents are not pushing you into this career, as many do, without having investigated it thoroughly. I am also delighted with the passion I sense in your letter, as this is a crucial ingredient for success. I strongly suggest that as a family you learn how the business works and how it is possible to have a safe, happy and successful career. (This is the focus of my latest book, Model Scoop & Acting Info). I also agree with you that Tyra is an inspiration and she is also very honest about the agony and the ecstasy aspects of a modeling career.

To help you, your parents and all the aspiring models who have written to me, I would like to share the results of my research on this issue. All of the African-American models I spoke to agreed that it had been difficult for them to break into the business. They had accepted the challenge and worked hard at promoting and preparing themselves. They were emphatic that a new model should develop her own "look" and not try to be another Tyra or Naomi. Agencies do not want copies of an original.

Sandi Bass, a former international model and now an international scout, told me: "It is very difficult for us, but it is getting better. I had a great career but I had to go to Europe to do it. I would say to my black sisters, if you really want a modeling career, go for it! But don't just look at modeling; look at acting, also. We have to try a little bit harder. We have to offer a little bit more. Go to school. Get an education. Have something to fall back on. Don't be afraid to hold on to your dreams and they will come."

Despite the fact that lovely Peggy Dillard was told by every major model agent in New York to give up the idea of modeling, she enjoyed 10 years as a much sought-after international model. Her advice: "You don't have to be a superstar to be successful. There are many black models who have been successful in this industry, whether it is on the runway or in catalog, who are not household names. They live somewhat more normal lives. Look at your individual attributes and realize how to market them. Learn everything you can about the business. Do your homework. Approach this business as you would a college project. Find out what photographers are looking for. Go to see the agents and listen to their perspectives. Don't be discouraged."

International model Shailah Edmonds told me: "The market is smaller and there are a lot of us out there. However, any good agency in their representation includes African-American or ethnic or minority models. If the model fits the criteria there is a market."

I was deeply impressed by the commitment of many African-American models to give back to society. They step off the world's runways and leave the beautiful clothes and makeup behind to immerse themselves in charity work. We seldom hear of their tireless crusades. Somalian super model Iman is a wife, mother, author, and founder of her own cosmetic company. She was appointed the global ambassador for Keep A Child Alive and its "one dollar a day" campaign which provides antiretroviral drugs for HIV-positive children in Sub Saharan Africa. Iman has also used her celebrity status to raise the awareness of other charities, including Mother's Voice, Action Against Hunger, and the Children's Defense Fund.

For the complete behind-the-scenes story and all the details on this and other exciting competitive events from across America, as well as a wealth of advice to improve your chances of victory, be sure to Order Pageantry today.
w