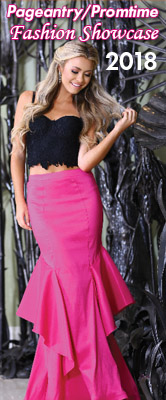 Pack Your Bags

By Eve Matheson

Modeling isn't about where you have to live anymore, it's about where you want to live

A

s I mentally write this column, I am packing for a trip to Paris to attend the third annual European Model Showcase. Held at the swanky Hilton Arc de Triomphe hotel, this event is a brilliant opportunity for aspiring young American models to be seen—and hopefully booked—by leading model agents from Europe and Asia.

In the past, several careers have been launched in this ultra glamorous setting. It is a fun, memorable experience and a safe glimpse into the world of international modeling for all who participate.

I am crossing my fingers that my itinerary will not involve using the dreaded new Terminal 5 at Heathrow Airport in London, which suffered a spectacularly disastrous debut a short time ago. Even the Queen, who performed the opening ceremony, was not amused. The disaster was of Homeric proportions—a frenzy of lost luggage, irate passengers, cancelled flights and weary personnel. The paparazzi had a field day, especially when supermodel Naomi Campbell was arrested for allegedly assaulting an official during one of her more spectacular tantrums on learning that her luggage had also gone A.W.O.L.

My Paris trip drew my attention to the following question in my inbox:

Q: My daughter is a fashion model and has her heart set on modeling in Paris. What do agents look for over there? Is it expensive to live there?

A:

Yes, it is expensive to live in Paris as it is everywhere in Europe because the euro is very strong against our very weak dollar. However, agencies and other models help newcomers establish semi-affordable lifestyles. But your daughter would be well-advised to arrive in Paris with sufficient funds in a bank account, to cover expenses for at least the first six months.

I spoke to former international model Kim Luret, who is originally from California and now lives in Paris. Kim enjoyed a hugely successful career during which she modeled for all of the top designers. She scouts worldwide for two of the world's most prestigious agencies in Paris—Crystal and Slides.

I asked Kim what she looks for in a model. She told me: "Ideally, I am looking for someone between 5-foot-9 and 5-foot-11, aged between 16 and 22, who is highly photogenic—that is very important! Hips may be 34-35 inches. But these are just statistics. When I meet a girl what I am really looking for is: What is going on inside? What is she projecting? What does she believe about herself? That counts a lot for me, and I know it will count a lot for the clients. What is going on inside will have a direct and enormous effect on what is going on outside.

"I also look for someone who just exudes confidence, charisma, charm, positivity, enthusiasm and professionalism. If I had to choose, I would rather go in that direction than with the physical perfection. I think most agents would say that."

Kim has drawn on her own career and hands-on experience of the business for a program she has produced called "The Secret of Modeling." This great learning tool is available on DVD.

The minimum age for working in Paris is 16. While Americans do not require a visa certain documents are required. These are, obtained with the help of the model's agency when she arrives.

The next question, which I receive repeatedly in one form or another, takes us from the international glitter and glamour of Paris to rural America, where scores of young girls want modeling careers.

So Nice They Named it Twice:

The beckoning bright lights of New York city, New York.

Q: I am 16 and I live in a very small town. I really want to be a model but my friends say I have to move to New York to do this. Is that true? This isn't possible at the moment. Is there anything I can do here to get started?

A:

In New Smyrna Beach on Florida's east coast, I spoke to former model Christine Harris who, with her fashion photographer husband Scott, opened Premiere Model Management in 1992. This charming couple are proof that an international career can start in a small local area and also that young girls who aren't tall enough for fashion modeling can do print, commercial and movie work in smaller markets.

Christine told me: "Even in our small town here at the beach, there is so much work because everyone wants to advertise. New Smyrna has 40,000 people but all the little towns up and down the coast connect. We have beautiful young men and women doing brochures and advertisements for resorts, hotels, water-parks, catalogues and movies. They don't have to be tall and look like a fashion model, or be on the cover of Sports Illustrated to do this type of work."

However, when Christine does find a girl who meets all the criteria for fashion modeling she introduces her to world-class agents. When we spoke, her most recent discovery, 15-year-old local girl Brittany Houricane, had just arrived back from Los Angeles, where she had modeled in the Collection shows.

I asked Christine how she had discovered Brittany, and she said, "Her brother modeled with us years ago and Brittany, who was one at the time, would toddle around our office while we worked with him. Then he went into the military. About six months ago, her mom called me and said 'You probably won't remember us but my daughter is Brittany Houricane and she is 5-10.' How could I forget that name? I told her to bring her in to see me. That toddler was now a beautiful young woman! I introduced her to the Next Agency in New York, Next in Los Angeles and Ford Models in Miami. She was signed by all three. She already has three big contracts."

Former model Tara Graham, who owns I.T.S. (In The Spotlight) Models and Talent Management, a full service agency in Lancaster, Pennsylvania, works with girls who live in small towns in-and-around Pennsylvania. She told me: "The Internet and new technology have changed everything. I can manage a girl who lives three hours from me—and seven hours away from New York—by getting pictures from her and submitting them electronically to agents in the bigger markets. These pictures have to be 'reality' pictures and not digitally altered. When agents eventually meet the model, they want the girl in the picture to look like the girl in front of them. Of course I have to meet her too. I like to spend as much time with her as possible because I will not only groom her, I will also work on her self-esteem and confidence, and that is the key.

"Girls who live in small towns bring a kind of innocence to the business. They want to learn how to be good at what they do. Clients, who might find the New York market too harsh or Los Angeles too fake, love the girls in Pennsylvania."

Eve Matheson is the author of The Modeling Handbook, a bestseller in the industry. She has been writing about the modeling and acting world for over 20 years. Her new book Model Scoop And Acting Info provides a wealth of information on how to have a happy, successful, safe career and is now available. Eve is a journalist and the mother of a former international model. She has worked as a model, and in radio and television as a writer and presenter. Eve lives with her husband, Ian, a plastic surgeon, in Tampa, Florida.
w