The modeling and acting industry ushered in the new decade at the International Modeling and Talent Association (IMTA) convention in Los Angeles with a powerful, palpable sense of optimism and hope. All of the agents, managers and school directors I spoke to had shown great strength in adversity, and despite an alarming increase in competition in all aspects of the business and a marked decrease in the number of jobs available, they were very upbeat about the future.
I was thrilled to hear of the very successful launch in New York City of a series of Weekend Workshops for aspiring models. Education is a mandatory ingredient for success as a runway or commercial model. I was impressed to discover that this clever venture is the brainchild of the multi-talented Karen Lee Grybowski.
Karen founded the Karen Lee Group, a scouting and consulting firm, which produces the workshops, when she left her position as director of scouting for North America at the famous Elite model agency in New York to pursue an independent career. Karen is one of the most admired people in the industry. In fact, she has made such an impact that she is known globally simply as Karen Lee. She has an uncanny affinity for discovering girls with celebrity potential and a Pygmalion talent for molding the stars of tomorrow.
I have known Karen for over 20 years and she has never wavered in her concern for the welfare of the ingénue. While the requisite looks, height and measurements are essential for a modeling career, Karen considers good self-esteem, a balanced daily diet, and a sensible exercise routine to be very important elements.
Her story is of great benefit to the newcomer because it illustrates the need for perseverance, passion, diversity, and education in the pursuit of success. Karen grew up in a small town in western Pennsylvania. Interested in becoming a model, she first went to college to earn a degree in health and physical education, then taught school and went on to get a master's degree in education.
Tall and slim with beautiful bone structure, she worked as a model in Pittsburgh. She finally decided to leave the teaching profession to move to New York to model full-time. Her next career move was to the business side of the modeling profession. Her formal education, teaching experience and modeling were great assets. She worked at the famous Legends, Wilhelmina and Pauline's agencies before moving to the Elite agency in the late 80s. She achieved celebrity status as an agent and was a major influence in the production of the Elite Model Look, a worldwide model search that launched the careers of Cindy Crawford, Allessandra Ambrosio and Gisele Bundchen.
Karen's expertise is always in demand. She has been a guest judge on Tyra Banks' America's Next Top Model, and judges international model and talent convention competitions from coast to coast. In the frenzied world of show business Karen remains calm, which is no doubt a result of her passion for yoga. She is a certified yoga instructor and teaches at the Atmananda Yoga Studio in Manhattan.
With this amazing background, it is little wonder that her Weekend Workshops have been applauded so vigorously. Want-to-be models spend the weekend with Karen and her team of experts. They receive in-depth education on how a model's career is developed and launched, and there is discussion on the business aspect of that career. The curriculum also focuses on runway instruction, on-camera direction, posing for fashion shoots, hands-on hair and makeup advice from experts who work in the industry, yoga, and trips to an art gallery, the theatre, even the United Nations.
She told me: "The Weekend Workshop is well rounded. It is an opportunity for young women to gain self-confidence, have fun with their peers, and really learn about the industry and the career they aspire to. We also introduce them to several top agents."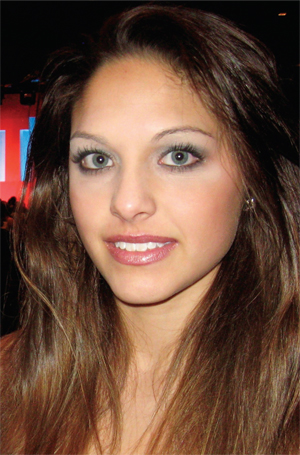 Sensational Sarah: Sarah Best of the Barbizon-Avanti school in Raleigh, N.C. has her sights set on a modeling, acting, and dancing career in NYC.
I talked with two stunning girls, Meredith Mastellar and Sarah Best, both of whom Karen had scouted at an International Model and Talent Convention in Los Angeles. They had been brought there by Nell Renfrew Sutton and her husband C.L. Sutton (owners of the acclaimed Barbizon-Avanti School and Agency in Raleigh, North Carolina) and Nell's daughter Teresa Womack, an author and photographer.
Meredith and Sarah had just completed a Weekend Workshop in New York and were immensely enthusiastic about the experience. Meredith told me: "It was amazing and such fun. I got to meet people I would never have met in my whole life. We not only met the super model Coco but she actually helped us with our runway and photo posing and told us her story of how she came into the modeling world. We learned so much. It really reinforced my passion to be part of the modeling and fashion industry. Karen is amazing. I just love her."
Sarah told me: "Karen was so sweet and the workshop helped me a lot. I had a really good time. I love New York and I met so many fascinating people. The weekend was a whirlwind of knowledge, learning and excitement. I learned how a model's career develops and what is expected of her. There is a lot more to it than people realize. You have to stay focused and believe in yourself. You have to stay on the right track and go for your dream."
The top model agents who met Meredith and Sarah were impressed with their personalities and photographs. Career opportunities will be discussed further when both girls who are seventeen have finished high school. They are high academic achievers, which means they will have the time to decide if they want to put college on hold while they pursue a modeling career. Both sets of parents are completely supportive of whatever decision they make.
Another new venture where I was privileged to judge and speak took place in Tampa, Florida. It was the preliminary search for Florida's Best Fashion Model, a day-long event sponsored by First Impressions, a modeling, acting and image development studio. The event featured workshops, keynote speakers, runway competitions and on-camera interviews. It was a dream come true for First Impressions founder and director Joann Torretta, a nationally known fashion consultant and coach, who has trained more than 70,000 aspiring models and actors. She said: "I have wanted to bring an event of this caliber to Florida for years. We have some extraordinary talent here and this is an extremely affordable, convenient opportunity to pursue dreams."
I was very impressed with the excellent advice given by model and actress Nikkie Tendell. Nikki arrived from Los Angeles—where she had been working on a feature film called, The Easy—just minutes before her scheduled talk. She told the audience: "I actually got my start in pageants. It took me fifteen years to get where I am today and I am not quite there yet. You have to want this career so badly that nothing will stand in your way. You have to love it in spite of the scams that are out there, and the rejection. There is room in the business for everyone—no one is too tall, short, fat, thin, ugly or pretty. There are no guidelines on how to start this career and keep it going. You have to study and be educated."