When asked how long a model can expect her career to last, Carole White, cofounder of the world famous Premier Model Management in London, told me: "A girl has about five years to make money and invest it. Once it is over she is not likely to make the same kind of money again. She doesn't know anything else because she hasn't had the time to learn any other business." Obviously there are exceptions. Supermodels Naomi Campbell, Christy Turlington, Claudia Schiffer and Linda Evangelista are celebrating 21 years at the top of their profession.
Some models put their careers on hold and resume years later, as you will see in the answer to the next question.
Q. Our daughter wants to continue her modeling career in Europe but her father and I want her to go to college. What should we do?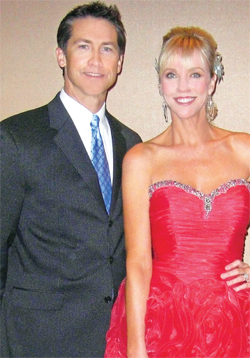 Reviving Her Career: Dr. Tracy Halme (R), a former international model and now a radiologist at St. Joseph's Women's Hospital in Tampa, walked the runway with former Tampa Bay Buccaneer Jeff Carson in a celebrity fashion show to raise money for a new breast cancer research facility.
A. My husband I faced this dilemma when our daughter Tracy asked if she could put college on hold and go to Europe to start an international modeling career. She knew college was definitely in her future because she also wanted to be a medical doctor. At this point I would emphasize that no matter what anyone might say to the contrary it is impossible to be a model and attend medical school at the same time. It is possible, but not easy, to model while at college.
I had received advice from various people. In New York, a photographer told me: "A 24-year-old model is a has-been but a 24-year-old-doctor is just starting out. Tracy should go to college!" A fashion show producer gave me this opposing viewpoint: "If Tracy is intelligent, she will always be intelligent. She can go to college later. If she gets a chance to model in Europe she should take it. It might not happen again."
Finally, after much discussion we all agreed that Tracy should go to Europe. She went for 18 months and under the expert guidance of Sonja Ekvall, founder of Model Team in Hamburg, Tracy modeled in Hamburg, Munich, Paris, Milan, Greece and Scandinavia.
She returned to study at Emory University in Atlanta and after a year transferred to UCLA From time-to-time she flew back to Europe from California on modeling assignments. Finally she traded in her modeling career for medical school, which was followed by a residency in radiology and a sub specialty fellowship in Women's Imaging. Tracy is now a radiologist with the prestigious SDI Diagnostic Imaging group at St. Joseph's Women's Hospital, in Tampa, Florida, where she specializes in Women's Imaging.
Surprisingly, her modeling and television background has resurfaced and has proved to be a great asset when she is asked to do print work, as well as television, radio and newspaper interviews and commercials, which educate women on breast cancer. She is also asked to model in fashion shows organized to raise funds for cancer awareness and research. Tracy said: "It is amazing how quickly those skills come back. It is great fun to be back in the business, if only occasionally and for a little while."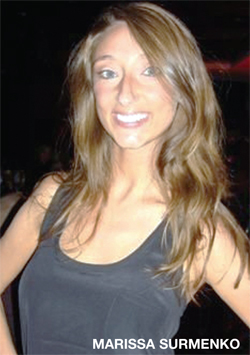 Q. Can you tell me something about online modeling?
A. This is a comparatively new and growing source of work for models. More and more people are shopping online, which became very evident when Net-a-porter.com was sold this year by its founder, Natalie Massenet, to the Swiss luxury brand Richemont. The business, which Natalie started in a tiny studio in England 10 years ago, was valued at close to $570 million. Natalie became $76 million dollars richer with the sale of her 18 percent share.
I spoke with Marissa Surmenkow, director of Passport Model Management, a high fashion boutique agency in San Francisco. A former model and agency scout, Marissa books models regularly for online retailers.
She told me: "The Web has become a whole new avenue of revenue for models and agents as we see more and more on-line retailers popping up. Many of them have closed their retail locations as brick and mortar, printing and overhead costs have soared. It has been a great way for us to increase our business over the last few years. The consumer loves it, especially young girls in small town America who want the fashion forward lines but don't have access to the kind of stores that carry them. There are many incentives such as free shipping and free returns. For the model the Web is a great work opportunity. They really have to know how to move in front of the camera; how to make one tank top in five different colors look amazing. Models have to work really hard for these clients. But if they do well they are rebooked week after week."
I asked Marissa for the height and age requirements. She said: "It is the same as for the fashion model—5-8 to 5-11. Occasionally we will have a request for a petite when the requirement is 5-6 to 5-7. The target market for our online clients is 16-to-25-year-olds, so that is the age range we are interested in. These clients are also open to looking at new models and we are very interested in developing new faces at Passport Model Management."