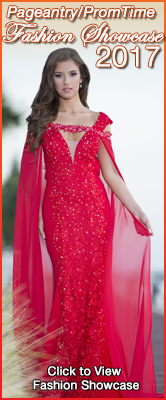 Putting the SUN Back in Your FUN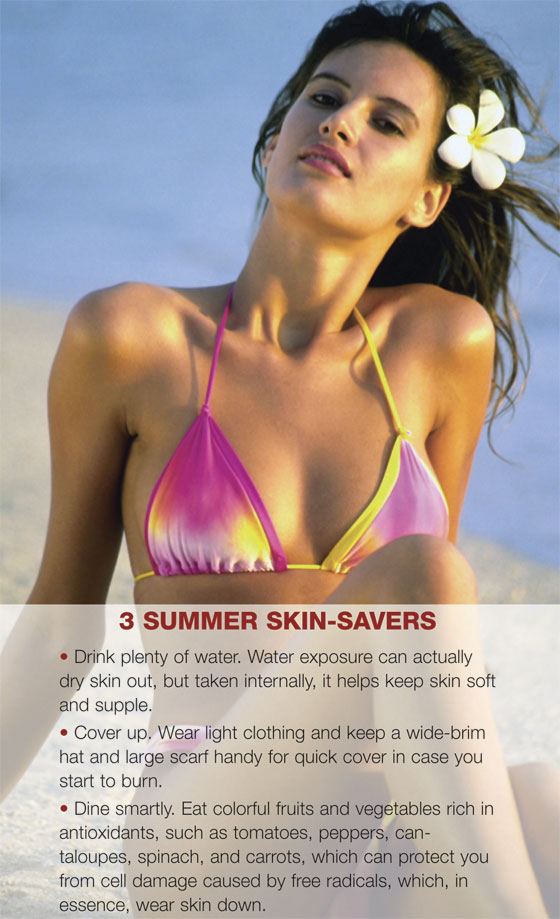 ?
W

ith summer upon us, we are all very aware that UV rays are bad—bad for unprotected skin, bad for freshly colored hair, and even bad for your manicure. So how do we stop the constant worrying about sun exposure and bring back those carefree days of summer fun? Chill out with these simple tips.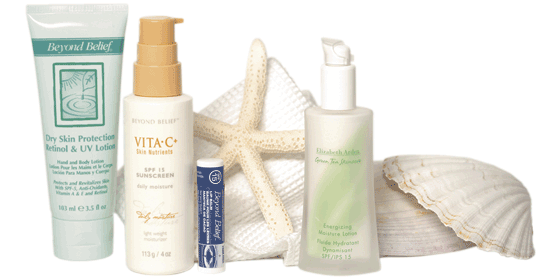 SKIN
A healthy dose of sunshine helps your body create vitamin D, but too much of a good thing can damage the skin. Sunlight contains ultraviolet A and ultraviolet B rays or better known as UVA and UVB. UVB rays peak between the hours of 10 a.m. and 2 p.m. and are not as intense during the winter months. These rays are responsible for sunburns, and the effects can usually be felt within a few hours after exposure. UVA rays are constant year-round and during all times of the day. These are the rays used in tanning booths. Although UVA rays take longer to damage the skin, they penetrate deeper into the skin and accelerate the skin's aging process.
Your body's primary defense against ultraviolet rays is melanin, which colors the skin. The lighter your skin, the less melanin in your body and the more quickly your skin will burn. But no one is safe; all skin that is exposed to the sun becomes sun-damaged over time. The bottom line? Make sure to apply plenty of sunscreen when you head outside to play, using a daily sunscreen of at least SPF 15. And don't forget your lips, because they are getting just as much exposure as the rest of your face. Try a lip balm with SPF ingredients.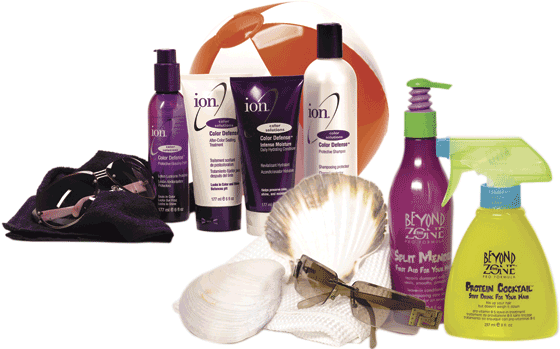 Hair
Common sense tells us that hair doesn't get "sunburned," but we all know that sun exposure can definitely fade hair color, dry out your hair, and burn your scalp. The best way to protect hair is pretty simple—keep it well hydrated. Depending on your hair type and condition, you may need a daily leave-in conditioner, a weekly deep treatment, or both.
There are several types of leave-in conditioners. If your hair is fine, opt for a very light spray and apply it to damp or towel-dried hair. Something like Beyond the Zone Protein Cocktail is perfect. It uses pathenol provitamin B5 to strengthen the hair, but doesn't weigh it down. If your hair is coarse or curly, a cream leave-in might suit you better. Look for something like Beyond the Zone Split End Mender.
A deep conditioner will soothe very damaged or dry hair, but it often contains heavier ingredients and should not be substituted for your daily conditioner. Using deep conditioner once a week should repair most damage and prevent more from occurring. Most deep conditioners are a blend of natural oil, silicone derivatives, and humectants for deep, intense moisturizing of very dry, chemically processed hair. All deep conditioners suggest roughly the same instructions: apply after shampooing and leave on for two to five minutes. Sorry, but leaving it on longer won't multiply the benefits.
There are also a few products to stock, especially during summer months, to help your color last longer. Products such as Ion Color Defense are gentler on hair color and add an extra barrier around the hair shaft to keep the sun from fading your color, using vitamins A and E to protect the hair and grapefruit and sunflower extract to guard the color.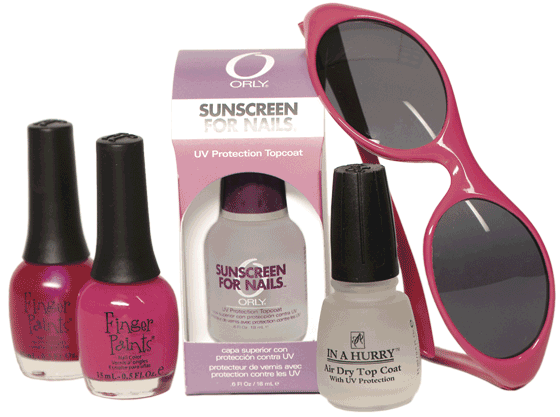 NAILS
Nails affected by sunlight, you say to yourself in disbelief? Absolutely! Just like hair color, nail color fades just as quickly in the sun, and between barbecues and trips to the beach, who has time to keep touching up a manicure? That is why it pays to make sure to use a base coat and a topcoat to keep your nails looking fresh. Look for a topcoat that protects against UV light, which will keep your color true to the hue that came out of the bottle.
Ernie McCraw is director of beauty education for Sally Beauty Company, the world's largest distributor of professional beauty products. A licensed cosmetologist for more than 30 years, he is a frequent contributor to fashion and beauty publications nationwide.
Read More Makeup Tips
Makeup: how to, step by step, cool makeup, modern makeup application, prom makeup, fashion makeup.
Spring 2013
Some of the best makeup looks for spring will involve combining popular looks from the past, present and even the future.
By Shantell Tavarez
Winter 2012
By accentuating either your lips or your eyes, you can create a simple, lasting look that will blow people away at any occasion.
By Shantell Tavarez
Fall 2012
Your days and nights are both set this fall when you take advantage of the alluring looks of dark, intense colors.
By Yahaira Rosario
Summer 2012
Skin tones can be kept basic this summer by simply sticking to a familiar rosey foundation.
By Yahaira Rosario
Spring 2012
Glitter is this season's key to giving your eye lashes a look that will make everything about you sparkle.
By Yahaira Rosario
Winter 2011
The winter season can seem bleak and colorless, but simple tones and styles can be your eyes' best friends.
By Yahaira Rosario
Fall 2011
Pulling it off
If you think this season's makeup styles won't fit your look, there's only one way to find out—just try it.
By Emily Saunders
Summer 2011
By focusing on your face's more subtle features, you can really add an impact to your eyes this season.
By Summer Posey
Spring 2011
Turn your day makeup into a sophisticated, dramatic night look by following a simple list of helpful tips.
By Myriam Fux
Winter 2010
The right color combinations can give you an enhanced dramatic look to master your formal evening affairs.
By Myriam Fux
Fall 2010
By recognizing your skin's undertone, you can choose the right colors to give your face an electric charge this fall.
By Myriam Fux
Summer 2010
This summer's ideal look is about creating a golden tan palette to display your light makeup style for any occasion.
By Myriam Fux
Spring 2010
Taking advantage of your own unique facial features allows your makeup style to set you apart from everyone else.
By Myriam Fux
Even if your eyes aren't your best feature, choosing a successful makeup style only works if all of your features are in sync.
By Myriam Fux
Winter 2009
Using the right angles, your favorite colors and subtle shading, you can turn your eyes into an artistic canvas to display your fun side.
By Myriam Fux
Fall 2009
By recognizing your skin's undertone, you can choose the right color makeup to give your face an electric charge this fall.
By Myriam Fux
Summer 2009
Pucker up, because beach season is coming and you're about to be kissed by the sun.
By Myriam Fux
Spring 2009
The greatest trick you can perform is making it look like you're not wearing any makeup at all.
By Myriam Fux
Winter 2008
Soft feminine is the style for the new year, and we've got the inside scoop on how you can achieve it easily.
By Christina Kane
Fall 2008
How the right colors can give you the hottest face in this cool season.
By Christina Kane
Summer 2008
You don't have to sacrifice your perfect look just because the summer sun is sizzling.
By Christina Kane
Spring 2008
5+5= A Perfect 10! These 5 foundation steps + 5 skin color choices add up to big improvements.
By Christina Kane
Winter 2007
What's My Style? That is the question.
By Christina Kane
Fall 2007
Get ready for football season and add a clean, crisp look to your cosmetics playbook by using classic accent colors.
By Ernie McCraw
Summer 2007
UV rays are bad for you—bad for your skin, your hair, and even your manicure. Chill out with these simple summer tips.
By Ernie McCraw
Spring 2007
These manicure and pedicure guidelines will turn your prom look from normal to knockout. For added glow, try the home spa treatment, too.
By Ernie McCraw
Winter 2006
Anatomy of Timeless Classics
By Ernie McCraw
Fall 2006
Beauty IS Skin Deep.
By Ernie McCraw
Summer 2006
The balmy season promises a good time to those who know how to avoid a makeup meltdown.
By Ernie McCraw
Spring 2006
Tips for glamourizing and smoothing your look for prom--the biggest night of your life.
By Ernie McCraw
Winter 2005
Just as you wouldn't expect to paint a masterpiece with a box of crayons, you can't achieve cosmetics perfection without the proper tools. This guide can help you make all the right strokes.
By Ernie Mccraw
Fall 2005
Deciphering the scientific terms for makeup ingredients can be the first step toward a more effective skin-care regimen.
By Ernie McCraw
Summer 2005
We're talking glistening, glowing, glossy, glimmery, glamorous, and gorgeous... from the face to the fingernails.
By Ernie McCraw
Spring 2005
To achieve a dazzling makeover for evening, start with your usual polished look, then add some drama.
Winter 2004
Fall 2004
Summer 2004
Spring 2004